Inspiration
Profile of Chamanlal Ji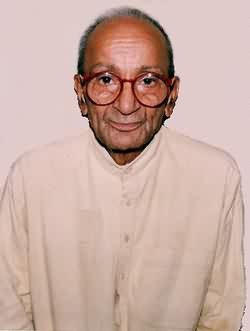 Chamanlal ji was a rare combination of an agile perceptive mind and diligent relentless activism. He was sacrifice personified. He gave almost 70 years of his life to Rashtriya Swayamsevak Sangh (RSS) and till the very end, strove to make the Sangh truly a global entity.
Born on March 25, 1920, in Sialkot, a town in Punjab of yet to be divided Bharat; Chamanlal ji earned his Post Graduation in Botany, with a Gold Medal, from the University of Lahore. He chose to become a pracharak and make the Sangh work his life's mission. He worked in Punjab province before Partition and after 1947 moved to Delhi. He played a major role in the development of Keshav Kunj into a modern and multi-purpose activity centre of Sangh, which became in head quarters for nearly six decades. He was virtually the soul of Keshav Kunj at Jhandewala in Delhi. His warmth, thoughtful care and hospitality were as exemplary as his commitment to his life's mission. He earned the affection of a vast network of PIOs and NRIs from across the world. They poured into Jhandewala like perennial stream to meet with him.
His astute management skills were like a life-support-system during the trying times of emergency when he sustained and coordinated the organizational network of the Sangh. His intellectual profundity manifested in his original views on many a contemporary issue. Issues such as - safeguarding our cultural heritage in the face of the challenges of our times, rescuing religion from the narrow definitions of orthodoxy, the threat of subversion to democracy from the within - brought out the thinker in him.
His proximity to Shri Guruji gave him an opportunity to compile the views of Sangh and other anecdotal details. In doing so, inadvertently perhaps, Chamanlal ji penned a detailed contemporary history of Sangh. His manuscripts, running into thousands of pages, are a virtual treasure trove of insightful information for any researcher. He was meticulous in keeping records and maintained live contact with thousands of karyakarta and swayamsevak families across the world.
Chamanlal ji lived his life's mission with the discipline and focus of a scientist and selfless dedication of a swayamsevak. He participated in the First World Elders Conference at Keshav Srushti near Mumbai in February 2003 jointly organised by ICCS USA and Vishwa Adhyayan Kendra and was a witness to the historic gathering of Elders from 45 countries representing 75 different ancient traditions of the world. He died soon after the conference on 10th February 2003 at the age of 82 years. He continues to live in the inspiration of all those who knew him or knew of him.
Profile || Image Gallery || Tribute