Inspiration
Tributes to Chamanlal Ji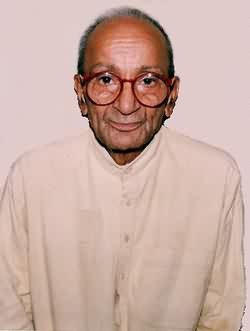 The veteran Sangh Pracharak Chamanlalji, who played an instrumental role in forging the global network of RSS, passed away at Bhakti Vedant Hospital in Mumbai on February 10. He was 83. He was admitted to the hospital on February 8th following some breathing disorder, where he died of cardiac arrest on February 10. His body was flown into Delhi from Mumbai on February 11 and was kept at Keshav Kunj, the RSS Delhi headquarter, where thousands of swayamsevaks from Delhi and adjoining States including Punjab, Haryana, Himachal Pradesh and Uttar Pradesh paid their tributes to the departed soul. The funeral procession that began from Keshav Kunj was joined by thousands of mourners. He was cremated at the Nigambodh Ghat on the banks of the Yamuna. The younger brother of Chamanlalji, Shri Gurudyal Grover performed the last rites. Sarsanghchalak, Shri K.S. Sudarshan, Prime Minister, Shri Atal Behari Vajpayee, Deputy Prime Minister, Shri L.K. Advani, Union HRD Minister, Dr Murli Manohar Joshi and many other Cabinet Ministers, politicians, representatives of social organistsions were among the prominent persons who visited the Keshav Kunj to pay their tributes to Chamanlalji. Vice President, Shri Bhairon Singh Shekhawat paid floral tributes at Nigambodh Ghat before the cremation.
After the "1947 Shaurya Smriti Samaroh" held in Amritsar on January 29, where he was honoured by the Sarsanghchalak, Shri K.S. Sudarshan, Chamanlalji reached Mumbai on February 4 to participate in the Conference of the World Council of Elders of Ancient Traditions & Culture. Since February 6, he had been feeling uneasy and had been taking some homeopathic medicines prescribed by a doctor. On February 8th night, many of the local Sangh workers called on him till 8.30 pm. He dined well that night but felt uncomfortable as he had some chest pain. He was instantly shifted to the nearest hospital-the Bhakti Vedant hospital. He was unconscious by the time he reached the hospital. His blood pressure and pulse were recorded, though feeble. Expert doctors visited throughout the day and tried their best with medicines and treatment. However, the expert on critical cases informed late noon on the 9th that his four important organs-heart, lungs, brain and kidney-had been damaged and reviving them was almost impossible. An Ayurveda expert offered to treat him and since then he had been put on higher doses of medicines together with oxygen and other support systems. His health did not deteriorate afterwards and on 10th morning the BP steadied at 90-60. His pulse also steadied. On February 10th he also suffered a cardiac arrest. Sarsanghchalak Shri K.S. Sudarshan, Sarkaryavah Shri Mohan Bhagwat, Sahsarkaryavah Shri H.V. Seshadri, VHP Working President, Shri Ashok Singhal were constantly inquiring about his health. Sahsarkaryavah Shri Madan Das and Convener, Videsh Bibhag, Dr Shankar Tatwawadi and other important workers were in Mumbai for the purpose. Prime Minister, Shri Atal Behari Vajpayee and other senior leaders also constantly inquired about his health and remained in touch with medical experts who had joined hands for the treatment. But Chamanlalji breathed his last at 8.45 p.m. on February 10.
Born on March 25, 1920, in Salli village of Sialkot (now in Pakistan), Chamanlalji was the eldest of eight children of his parents belonging to a rich affluent family. He secured gold medal in MSc (Botany) in 1942 and renouncing all comforts and lucrative career, he became a Sangh Pracharak at Kullu in 1942. He was among the first batch of 58 Pracharaks that came out from Lahore in 1942. The batch included 10 post-graduates while 14 others passed the Shastri examination. In 1945 Thakur Ram Singhji, the then Pracharak who was looking after the Sangh work of Kangra region, sent him to Lahore. Thereafter, he became Karyalaya Pramukh at Jullundhar in 1947.
At that time, under the guidance of Shri Madhavrao Mulye, the then Punjab Prant Pracharak, the global network of the Sangh activities was initiated and Shri Chamanlal was given the charge of maintaining the contacts with the swayamsevaks spread around the globe. Now he was one of the senior Pracharaks of the Sangh who was solely responsible to keep close contact with the swayamsevaks going abroad. Later, Delhi turned to be the main center of Vishwa Vibhag and Chamanlalji shifted to Delhi. Since 1948 he remained in Delhi and was quite instrumental in setting up and expanding the Keshav Kunj, where a library, an archive and guest rooms were established. He was so much involved in building and expanding Keshav Kunj that he almost became synonymous with Keshav Kunj. It was because of his organisational skills and hard work that such books on Sangh work as Sri Guruji Samagra Darshan, Aapatkalin Sangharsh Gatha, Pratham Agnipriksha,
Page 1&nbsp &nbspPage 2 Page3&nbsp &nbspPage 4&nbsp &nbspPage 5
Profile || Image Gallery || Tribute