Inspiration
Profile of Late Lakshmanrao Bhide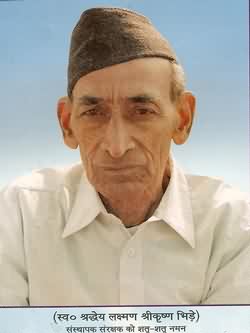 Late Lakshamnrao Bhide was born in 1918 in Akola, Maharashtra in a family of four brothers and five sisters. He completed his graduation from Morris College, Nagpur with a first class in Sanskrit and Philosophy.
During his college days he joined Rashtriya Swayamsevak Sangh (RSS) and became its full time prachaarak in 1942. His stint as a prachaarak started with late Shri Bhaurao Deoras in UP and he worked in close association with late Pandit Deendayal Upadhayay. From then on, till his death he worked as a dedicated prachaarak all through his life in different capacities at the highest levels in North and West Bharat. In the latter part of his life he entrusted the responsibility of Deendayal Research Institute as its Chairman. He was one of the founding trustee of Grahak Panchayat and Ayurved Parishad. He was an enthusiastic supporter of women's active participation in social and political movements and played a role of elderly advisor to organizations like Rashtriya Sevika Samiti.
Shri Laxmanrao Bhide, however, will be remembered in the history of People of Indian Origin world over as the moving force behind organization and consolidation of Hindu voice world over. He started his work at time, when the government of Bharat had no time for our brethren overseas, majority of whom were forced to migrate nearly a century ago in very difficult circumstances. His first stint in this decades of dedicated service to the cause of PIOs started in 1958, when was he was sent by R.S.S. to Kenya to support the fledgling work of Hindu organization started in 1947 by an organization, Bharatiya Swayamsevak Sangh in 1947. In a short time with his tireless zeal, he was able to take this work to great heights in Uganda, Tanzania and Mauritius. The umbrella organization of various Hindu organizations spread in these countries, called Hindu Council played a key role in helping Bharatiya migrants move out to new countries of their adoption as smoothly as was possible in those circumstances when they forced to leave in 1960s in countries like Uganda and Tanzania. He also helped Matrubhoomi Swayamsevak Sangh organize in Nepal in 1970s.
Page 1&nbsp &nbspPage 2 Page3
Profile || Image Gallery || Tribute